(Sort of) An Interview with a Hollywood Producer About Mr. Sam Lutfi, Britney Spears former (manager?)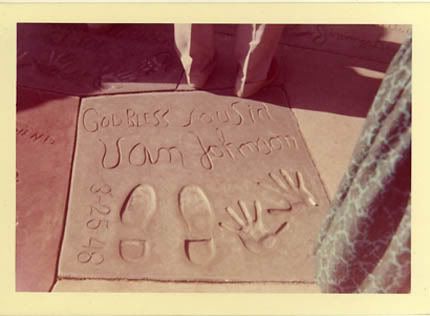 Could Sam Lutfi be the next Van Johnson? Who was Van Johnson? Film Historians say he was like Vin Diesel only with a Lutfi edge.
The following is a brief interview with Dylan Shields. Mr. Shields and his beautiful wife Amy are former neighbor's of Sam Lutfi's, who is apparently Britney Spears estranged former manager or producer, it's not clear what his association was exactly. Britney's family has slapped Mr. Lutfi with a restraining order, well technically not yet, because they have not been able to locate Mr. Lutfi to serve the restraining order. Not much is known about Mr. Lutfi. He was quoted in the media as saying that he didn't care what anybody said about him, i.e. the P.T. Barnum school of any publicity is good publicity. That's smart. Also he seems to be tall with dark hair and a dark complexion. He wears sunglasses often. That's all we really know about him. He's an enigma wrapped in an egg shell. Hopefully this interview with his former neighbor will shed some light on the elusive Mr. Lutfi.
A brief background on Mr. Shields. He is a graduate of the American Film Institute and has worked as an entertainment manager for the last several years. He is an executive producer's of the feature film, "Half-Life", which premiered at this year's Sundance Film Festival. Currently he is producing his second film starring Vincent Gallo. He and his wife are also expecting their first child.
EDITORS NOTE-THE FOLLOWING WAS GOING TO BE AN INTERVIEW BUT LAST NIGHT MR. SHIELDS, HOW DO I PHRASE IT ELOQUENTLY? PUSSED OUT OF THE INTERVIEW BECAUSE HE'S AFRAID OF BEING SUED. IF YOU KNOW MR. SHIELD'S THAN YOU'LL KNOW THIS SOMETIME FLIP FLOPPING AND WIMPY BEHAVIOR IS TYPICAL FOR HIM. BUT I DON'T BLAME HIM IT'S NOT HIS FAULT IT'S IN HIS NERD GENETICS (PLUS WE LIVE IN A LITIGIOUS SOCIETY AND HE HAS A FAMILY & CHIHUAHUA TO PROTECT). IF YOU'VE EVER KNOWN ANY A.F.I. GRADS THAN YOU KNOW WHAT I MEAN. MOST OF THEM SEEM TO HAVE THE SAME SKETCHY "NERD THAT CAN"T BE RELIED ON IF THERE'S A GUN IN THE ROOM" FEEL. YOU KNOW THE TYPE? IT'S A FUCKING MIRACLE THAT DARREN ARONOFSKY WENT TO A.F.I. HE'S A GENIUS. ANYWAY I CAN JUST PICTURE DYLAN AT THE VEGAS AIRPORT LAST NIGHT TALKING TO HIS WIFE ON THE OTHER LINE ASKING HER IF HE SHOULD PICK UP THE OTHER LINE AND TALK TO ME, SHE OF COURSE SAID NO, DON'T TALK TO THAT FUCKING IDIOT. SHE'S THE ONE WITH THE REAL BALLS IN THE FAMILY. I SHOULD HAVE INTERVIEWED HER INSTEAD. REGARDLESS HERE IS HALF THE INTERVIEW.
First for the record please state your name.
And you are familiar with one Sam Lutfi? You were his former neighbor?
You have worked in the film and entertainment industry for over a decade currently as a manager and producer is that correct?
Did you ever see any evidence that Mr. Lutfi worked in the entertainment industry?
And would you categorize him as a good neighbor or a bad neighbor?
Mr. Lutfi has been accused of verbal abuse. Did he ever verbally abuse you or your wife?
Did you ever see Mr. Lutfi verbally abuse Nuns, Catholic or otherwise. Did you ever see or hear him abuse school children?
Did you ever see Mr. Lutfi wear any clothing that felt abusive to your eyes?
What about those lame Nike or Fila sweat suits. Did you ever see him wearing one of those?
Mr. Lutfi has also been accused of attempted drugging.
Did Mr. Lutfi ever attempt to drug you, your wife or your dog?
Did you ever see Mr. Lutfi try to drug himself?
Okay those are all the questions I have. Thanks for your time.