ANNOUNCES IMMEDIATE COST CUTTING CHANGES- CUBAN CIGARS OUTSOURCED TO CHINA - COMMUNIST PARTY ADOPTS HMO HEALTH CARE - JOINT VENTURE WITH BLUE CROSS
BASIC CABLE , STARBUCKS AND ARBYS WILL BE AVAILABLE ACROSS ISLAND BY YEARS END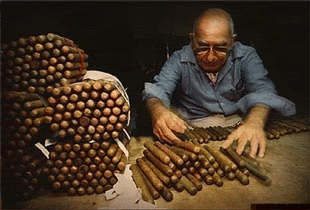 Cuba is introducing several cost cutting programs to bring Cuba into todays modern global business model, programs include dropping blanket health care for all citizens and exporting most labor to China. The Cuban cigar maker pictured here will be training Chinese workers later this year than transferred to a Gulag and shot.
In a surprise move today Cuba's congress elected President Fidel Castro's younger and much less dashing brother, Raul Castro, President of Cuba, effective immediately. Mr. Castro in his acceptance speech announced sweeping changes for himself and his business partners, Changes include several telecommunications and casino deals that should allow he and his partners to pocket millions of dollars. These deals should enable Mr. Castro to be able to flee comfortably to Switzerland for retirement within the next year.
Raul Castro also added that he would be banning his brother Fidel from wearing any more garish Adidas soccer sweat jackets. Only the President-elect and select Armenian tourists will be allowed to wear tasteless athletic apparel. The new El Presidente also stated that to cut costs, several money saving programs would be implemented. For instance Cuban cigars would be now be assembled in China. He also announced that the Communist Party will no longer cover health care costs in Cuba, A new HMO program is being implemented according to Cuba's Health Minister, Blue Cross will now be available to every Cuban citizen for a mere $250 a year. The average yearly income of a typical Cuban citizen is $189.00.