LATINOS WORRIED GERALDO THINKS HE'S A LATINO

CONFUSION IN LATINO COMMUNITY ISN'T EDWARD JAMES OLMOS OUR SPOKESPERSON?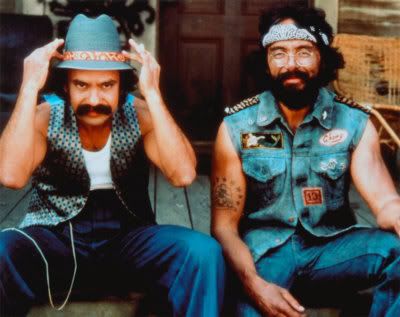 Tommy Chong is being considered by Ralph Nader as a running mate. Nader says it would be worth the free publicity generated by the jokes Jon Stewart, Letterman and other late night comedians would make.
When told that Geraldo Rivera is concerned about the Latino vote in the upcoming Presidential election, Orange County businessman Mr. Frank Gonzales responded, "Really, I didn't even know he was Latino. I thought he was like from Spain or some shit. Rivera? Check it out, I thought that was just a made up show business name like Carlos Mencia or Diablo Cody or Vincent Kartheiser? I mean shit, does that mean we have to take responsibility for him now? That sucks. I wish we could trade him, y'know like they did in that one Chappelle Show? That's a cool show, how come that's not on the air anymore? You should work on that show. We'll trade you Carlos Mencia and Geraldo Rivera. Who you got?"
"For Mencia and Rivera? We have Kid Rock and Sean Hannity."
"That sucks." Mr. Gonzales responded.
"I'll throw in Andy Dick"
"That still sucks." He said.
"Yeah you're right that is a shitty trade for you guys."
"Yeah you white boys are always trying to screw us over." Mr. Gonzales said.
"How about we trade you Bill Clinton for Carlos Santana?"
He stood up from the table and walked away muttering, "Pinche ese, pinche ese."
That Geraldo Rivera can really make you think.