INVESTORS CHEER AS TOSHIBA DROPS HD DVD AND GOES BACK TO MANUFACTURING WHAT IT KNOWS BEST, JUNK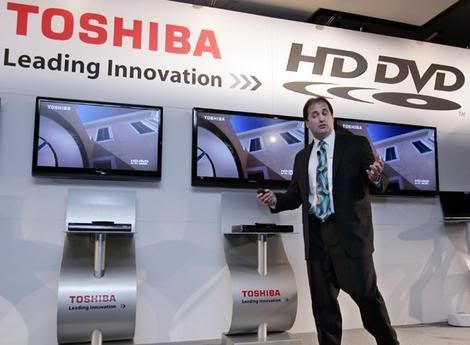 S

oon Toshiba HD-DVD players will be the leading innovation available at your local garage sale for about $20. That's almost a 200% price drop. Toshiba has scrapped its plans for its combination HD DVD and Laser Disc player.
Toshiba has surrendered and capilated in the high def DVD war. Toshiba had been battling it out with Sony and its version of Hi Def DVD, Blu-Ray. Toshiba's HD DVD was considered by many to be a superior format, even though traditionally Toshiba was known for manufacturing lower end electronics.
A source at Toshiba told Reuters on Saturday that the electronics conglomerate was planning to give up on the HD DVD format after losing the support of key retailers and several movie studios including Warner Brothers. The source at Toshiba added that Sony executives move at the CES convention last month to treat all the movie and television studio executives to "all the cocaine and whores they could ever want" was a bold move and was the last nail driven in to the coffin for Toshiba.
Toshiba's stock price shot up 5% today. Investors were to hear relieved that Toshiba is going back to doing what they do best. "Making crap" as one Toshiba executive so eloquently put it. Kenji Suki, was also quoted as saying, "Emerson isn't going to know what hit them. Obviously we can't compete on the high end market so were going back to doing what we do best, making low end electronics with a ridiculously high mark up. "