JAMES FREY TO EDIT NEW RIVERHEAD SEMI-FICTION NICHE DIVISION, POSEUR
ANNOUNCES FUTURE BOOK DEALS WITH ART BUCHWALD, NAPOLEON, HELEN KELLER'S CRACK DEALER & TUPAC SHAKUR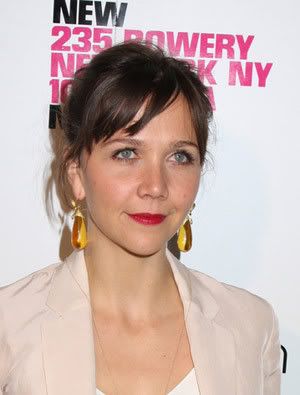 Author Margaret B. Jones attended the same elite high school as actress Maggie Gyllenhaal. Ironically besides sharing the same first name, both girls were standouts at the school. Their plain, average looks and poor acting skills set them apart from their classmates.
Looking for one of the 20,000 copies of the new book "Love and Consequences" but can't find one? Riverhead Books, the book's publisher has also noticed that store shelves across the country are empty. In fact all 20,000 copies that were released this week have flown off of store shelves as quickly as they arrived. Now Riverhead Books is hoping to capitalize on the success of a new genre of books, semi-fiction. Riverhead has started a new boutique imprint, Poseur. First off for the new publishing house, another hot printing of "Love and Consequences", the new semi-autobiography by author Margaret B. Jones or Margaret Seltzer or Maggy B. or Little Miss Liar. or M.C. Fake Author or Maggs da Phony or Margie the Storyteller or several of the other names that she has gone by over the last 3 years.
Riverhead CEO David Vigliano was asked about the author changing her name several times over the last few years.
" Frankly we weren't sure what to call her anymore. She kept giving us a different name every time she came in to edit. The last year or so we just started calling her "hey you". It was a little bit uncomfortable in a professional business setting but hey what are you going to do? These books don't write themselves, unless of course it's a celebrity's book, than they we actually do hire someone to write them."
Vigliano continued, "We were to busy getting the advertising campaign, the website, press and film deals in place. You know dealing with lawyers and contracts every few days, oh yeah plus I think someone was editing the book. The public doesn't realize that there is a lot to do when you publish a book and there is not time to do background checks on every author. That would take at least an hour of our time to call a private detective and run a TRW check. We are a small million dollar corporation and don't have the time or budget. Besides we were trying to sell this story to Miramax and the Weinstein brothers. Hollywood? They don't care about facts they just want to know what the bottom line is and what the gross will be. We're not interested in facts, unless they help us sell our product. In fact, facts have no place in the modern media just like they have no place in organized religion!"