PRESIDENT BILL CLINTON TOLD HIM IT DOESN'T COUNT AS CHEATING IF YOU'RE IN ANOTHER STATE
MORALISTIC GOVERNOR CONTINUES GRAND TRADITION OF CORUPT & SEAMY NEW YORK STATE POLITICIANS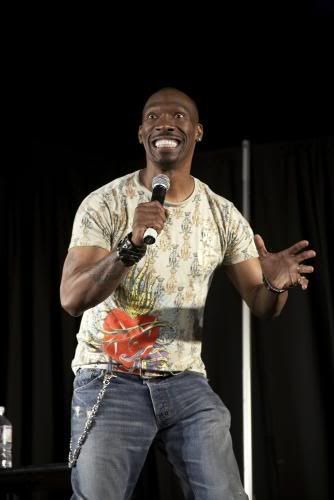 The great Charlie Murphy has been picked to lead ex-Governor Spitzer's legal dream team. Mr. Murphy is said to have taken the job because he wants Hollywood to take him more seriously as an actor. Mr. Murphy recently lost out on the lead role in No Country for Old Men to Javier Bardem.
Soon to be former New York Governor Eliot Spitzer, also known as customer #9 by the Federal Government, has taken the classic Hollywood defense used for years by actors, musicians, stand-up comedians and other entertainers. "The Hollywood defense or as some people call it, the out-of-state, out-of-mind defense, is pretty simple and it applies to my client. If you are out of your state or out of the country, and you bang someone else it doesn't count as cheating." said Mr. Spitzer's attorney, Mr. Lloyd Braun today.
He continued, "It was Errol Flynn who coined the phrase Hollywood defense, but he learned it from the old vaudeville guys. It goes way back. Henny Youngman and Jackie Gleason both wrote about it in their autobiographies. In fact Frank Sinatra and his lawyers used the defense several times through decades of divorce and paternity hearings."
Mr. Braun also added that they are assembling a "dream team" of lawyer's for Mr. Spitzer's defense, both criminal and divorce. He has hired Pete Townshend's lawyer who got him off of pedophilia charges and also O.J. Simpson's original defense team. Since Johnny Cochran has passed away they have hired Eddie Murphy's brother, Charlie Murphy to lead the legal dream team in the courtroom.
When told that Charlie Murphy has no legal skills and seems an odd choice Mr. Braun replied, "He's an actor, I know but that's okay because the law doesn't apply to New York courtrooms."